When:
August 15, 2017 @ 9:00 pm
2017-08-15T21:00:00-07:00
2017-08-15T21:15:00-07:00
8:00 doors/set times tbd
$15 adv/$15 at the door
"Valley Queen comes from the Neil Young school of great music. They are fronted by Natalie Carol, whose voice is simply amazing." – Bob Boilen – The Village Voice
Valley Queen's newest single, 'Stars Align' just premiered on NPRs All Songs Considered. "One of Bob's favorite discoveries from South By Southwest last year, the Los Angeles-based Valley Queen makes propulsive guitar rock. The newest EP Destroyer was released on March 10th.
Valley Queen will be supporting Laura Marling in a month long tour and just performed at Willie Nelsons Luck Reunion and Savannah Stopover.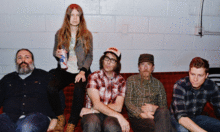 Sarah Shook & the Disarmers is an old school outlaw country/Americana band with punk tendencies. They are known for killer lyrics and the amazing musicianship of the Disarmers – backing up Sarahs plaintive vocals are lead guitarist Eric Peterson (Flat Duo Jets, the dBs, Matthew Sweet, more); country punk drummer John Howie Jr. (Two Dollar Pistols, John Howie & the Rosewood Bluff); stand up bass player Aaron Oliva (Caitlyn Cary, Nikki Lane); and incomparable pedal steel guitarist Phil Sullivan.